As part of our Is it ever OK campaign, we asked 'Is it ever OK to use your belongings to hold on to a study space?' Your feedback told us that you would like to be able to reserve a study space while you take a break, especially at exam time when you may be spending long periods in the library.
We've listened and as part of
Exam Plus
we've introduced a 45 minute study break pass. These are now available for collection from any of our customer service points.
Let us know what you think
.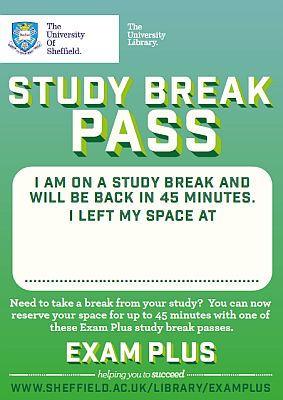 ever OK to use your belongings to hold on to a study space? Your feedback told us that you Is it ever OK to use your belongings to hold on to a study space? Your feedback told us that you would like to be able to reserve a study space whilst you take a break.would like to be able to reserve a study space whilst you take a break.We've listened and introduced a 45 minute study break pass. These are now available for collection from any of our customer service poi